The perfect spot to just watch the world go by.
Your stay at Waterfront is the perfect time to take a dip in our heated indoor pool, hit the treadmill at our fitness centre to work up an appetite for dinner, or enjoy the calm surroundings of the harbour and stunning capital city from one of our sea-view terraces.
OUTDOOR EXPERIENCE
Aqualuna Beach Lido
The outdoor lido, is located on the shoreline, right in front of Waterfront. The waterside lido situated in the Sliema creek features views of the Valletta and Manoel Island skyline.
Whilst you're there, enjoy:
Sunbeds & beach towels
Umbrellas
Heated outdoor pool during the winter months.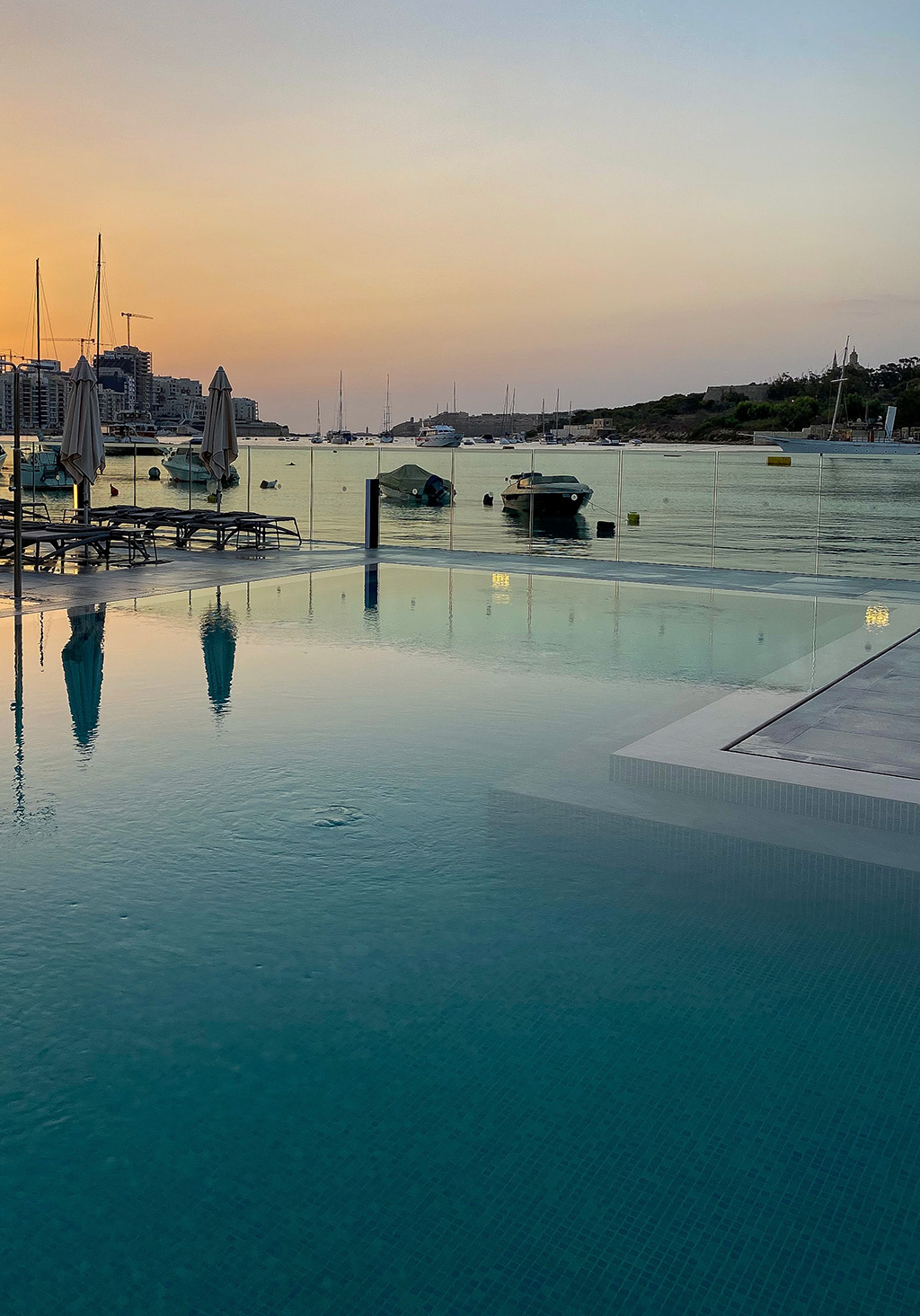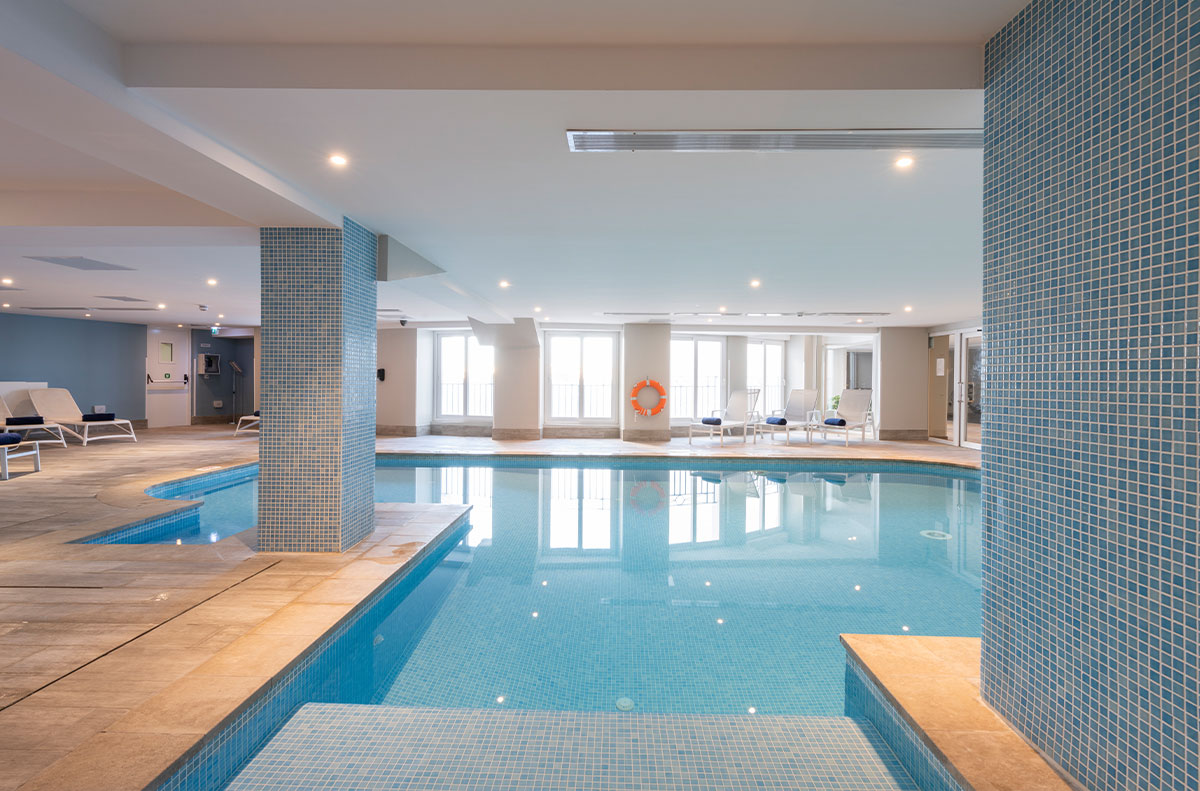 Our perfectly heated indoor pool
Our indoor pool is open all year round and is heated to precisely 32°C (89.6°F) for a perfectly warm swim, any time of year. With views of the Capital City, Valletta and located on the 10th floor, our heated pool is open to all our hotel guests and we provide free access to the pool and fitness centre. Towels are provided.
A Sauna and a jacuzzi hot tub with counter-current jets, a neck massage stream and bubble bath effect are also available.
Whilst you're there, enjoy:
Refreshing hot drinks, teas and chilled water
Fresh apples available at the reception desk
Treatment rooms (2) offering massages
Children below 14 years of age may use the swimming pool and relaxation area only if accompanied by an adult and should respect the comfort of other guests. No lifeguard is available on site.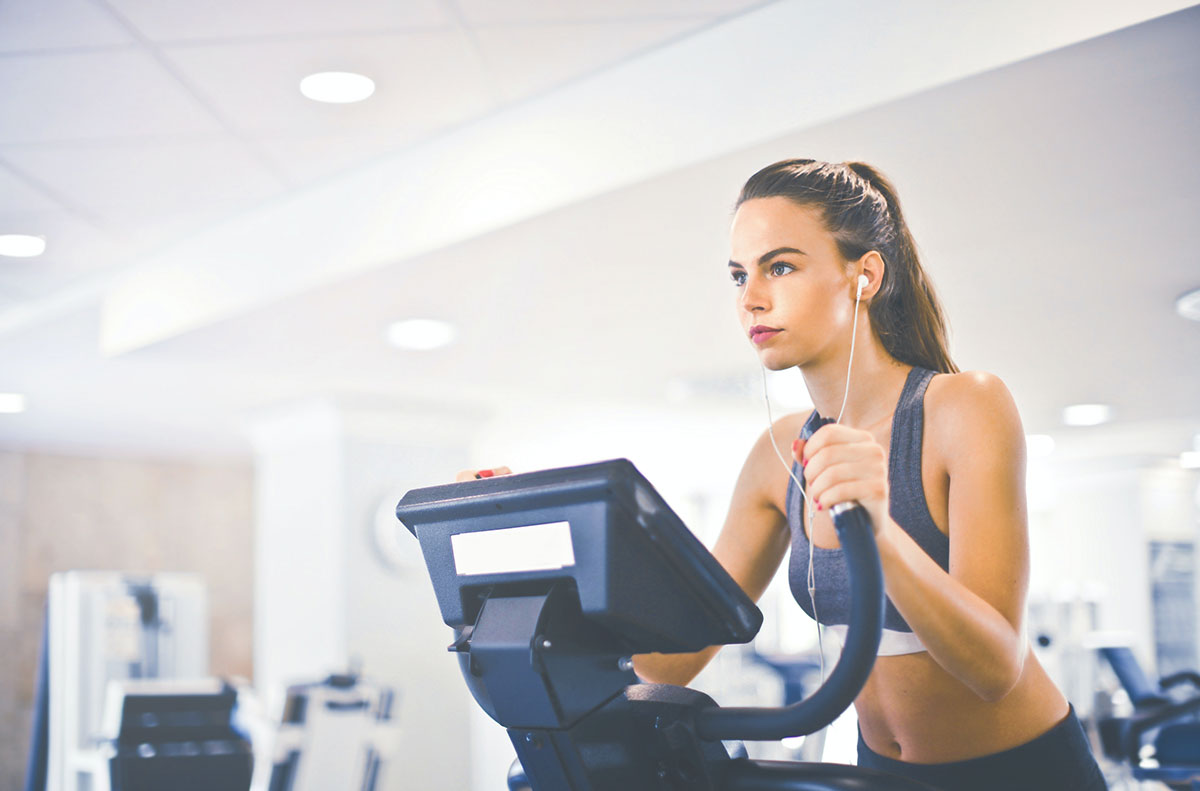 Work up a sweat in our fitness centre for a healthy body and healthy mind. Our fitness centre is located on the 10th floor of the Hotel, right near the indoor pool and panoramic sundeck terrace.  It is open to all Waterfront guests and complimentary gym towels are available.
Treadmills
Exercise bike
Air walker
Dumbells
Resistance Bands
Chest fly machine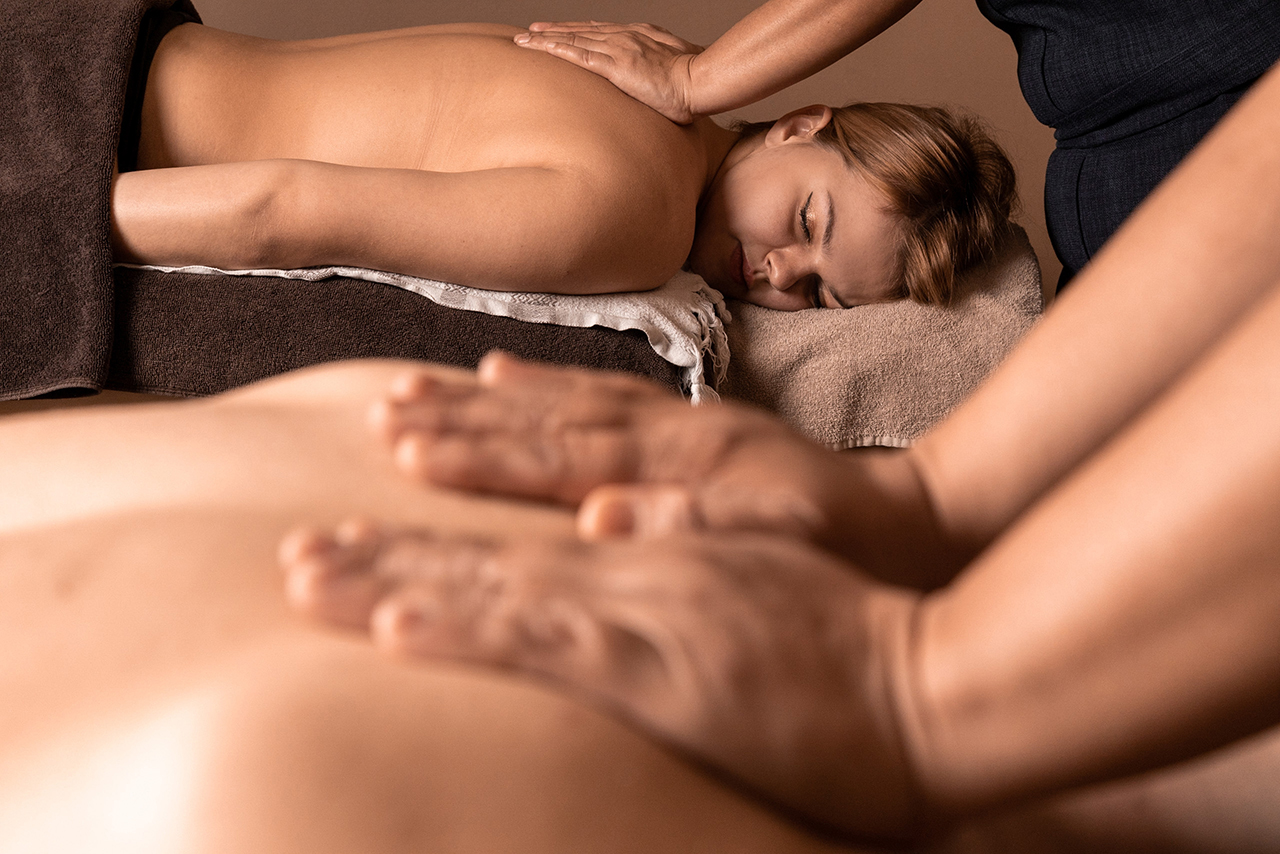 Relax, detoxify, nourish. Our spa experiences are carefully designed around your particular wellbeing needs. The Dee Spas team at the Waterfront Hotel believes in the interplay of natural energy from centuries-old traditional oriental practices, paired with modern scientific findings.
Be it for massages, peelings, packs, express treatments or day spa: at Dee Spas at Waterfront Hotel you are in the best hands.
Body Experiences – Our pampering massages utilise ancient techniques and revitalise you from head-to-toe.
Holistic Experiences – Feel rejuvenated with these treatments designed to improve your overall wellness.
Scrub & Wrap Rituals – Our scrubs and wraps are made from a blend of natural ingredients.
Spa

Rituals – Experiences that focus on the mind, body and spirit, leaving you restored and complete.
Ayurveda – Immerse yourself in these ancient rituals and restore the balance in the body, mind, and spirit.
Ante- and Prenatal Experiences – Tailor-made treatments for expectant and new mums.
Physical fitness is the first requisite of happiness